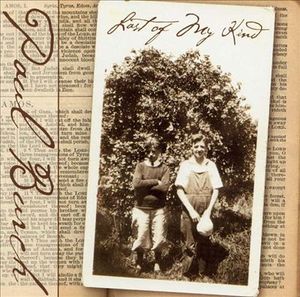 Songs
Aliceville Rag
Up On the Mountain
Living Up to the Man You See In Me
Harvey Hartsell's Farm
Goin' to the Carnival
Mama Shoo'd the Blackbirds
Electricity
Polio
Country Boys In A City Alley
Sun Don't Shine
Amos' Blues
Last of My Kind
Nightjar

Production
Instruments, Recording & Balance PB

Art
Design Meg Giuffrida
Quotes
New York Times
The door for such camaraderie was thrown wide open by Tony Earley, whose first novel, ''Jim the Boy,'' told a Depression-era tale as charmingly real and unpretentious as its title. It also inspired an undeservedly anonymous singer named Paul Burch to create a remarkable album of country music called ''Last of My Kind.'' Therein lies the story of just how powerful this cross-pollination can be. The first time I heard Mr. Burch, a year or so ago, he seemed like one of those eccentrics who would grow on you if you gave him a chance. He calls his band the WPA Ballclub, which should please admirers of Franklin Delano Roosevelt, and he makes music that would have sounded as right 70 years ago as it does to my ears today. Sometimes he croons, sometimes he picks up the tempo, and almost always his words are heartfelt and elegant in their simplicity: ''Tonight, tonight, I saw the one I'm gonna lose you to.''  'Jim the Boy'' moved Mr. Burch to write the 13 original songs that make up ''Last of My Kind'' and do far more than echo what happens in the book. They take the story of Jim Glass, a 10-year-old boy in rural North Carolina, his widowed mother and his three uncles and enrich it, expand on it, one small gem begotten by another.

Entertainment Weekly
A modern day Jimmie Rodgers

All Music
Burch's brilliance lies in the fact that he has created a period album pulled out of the past but imbued with a contemporary relevance and resonance that make it just as poignant as a novel of the same sort. As he sings in the title track, "Today I came to realize that I am the last of my kind."

BBC
Regular readers (hello Mabel) will be well aware of our deep and abiding love for Mr Burch and the WPA Ballclub. Each of the songs paint a different aspect of this tale of North Carolina mountain folk and their brushes with modern society and, in doing this, Paul Burch has produced a wonderfully evocative document which stands on its own. Above all, the seeming ease with which Burch delivers these epistles of familial tradition and loss gives them a poignancy that truly conveys a deep-rooted sense of an ancient continuity linked to the land where Jim grows. This dignified and measured document does that with overwhelming conviction.